Terra Linda

High School




Class of 1969 - San Rafael, California USA
Looking for some 'Good News'?
Ready to be inspired about 'Our Future'?
The TL Scholarship Foundation manages many different funds and awards many different types of scholarships. Our Class of 1969 Scholarship is included in their portfolio of programs. If you 'click' on the image below you will be able to watch a video featuring the 2020 TLHS Erik Stenberg AVID Scholarship Recipients - and you will be amazed and inspired!
This video does not feature anything about our Scholarship program.
It does feature statements of gratitude expressed by 10 different 2020 TLHS graduating seniors who are very similar to the kinds of young men and women we have supported with our scholarship program over the past 11 years.
If you have 12-minutes of time to spare you will not be disappointed in what you will see, hear and feel.
These are 10 future leaders, 10 future members of our adult society who've benefited from the generosity of others.
There are not too many 'Good News' stories available these days.
This is one of them that is worthy of sharing.
Enjoy...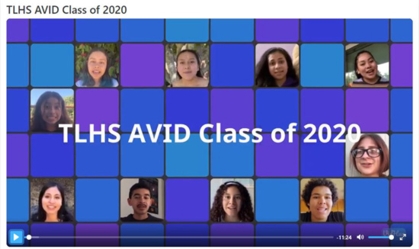 ~~~~~~~~~~~~~~~~~~~~~~~~~~
In other October news... the wildfires in Northern California have continued winding down (for now), which means many of us in this area are sleeping and breathing much better these days.
If you've got news to share please do.
If your Profile Page has not been updated in a while then now might be a good time to:
Post a few new pics;

Share a few tales and adventures from your Covid-19 survival manifesto;

Or, just let us know how you and yours are doing as we head into November and likely the most consequential Presidential election in our nation's history.
~~~~~~~~~~~~~~~~~~~~~~~~~~
'Linda & Terry' say:
"Please Vote" (however you lean)
and "Vote early"
('cuz who knows how long it's gonna take to get 'em all counted this time around).
~~~~~~~~~~~~~~~~~~~~~~~~~~
The TLHS Class of 1969 Store is now 'open' on zazzle.com!
If you're in 'gift shopping mode' please be sure to check-out the latest seasonal product offerings through the newest webpage on our site: Zazzle Fund-Raising Store
(And remember, all profits benefit The TLHS Class of 1969 Scholarship Fund)
~~~~~~~~~~~~~~~~~~~~~~~~~~
ANNOUNCEMENTS
You can safely and securely donate to our fund (in any amount) right now through PayPal!
Thanks for keeping our 'Trojan Spirit' alive!